'Harry the Artist'
Portrait of the Artist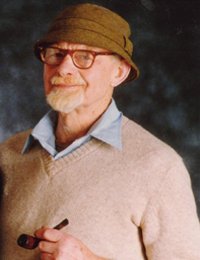 Harry was born Henry Gerald Russell on July the 3rd, 1911 in West Ham, London.   After a pretty full life, he died on November 11 1992, at the age of eighty one.
Most of his life he preferred the name Harry, although his father was a Henry too, Henry James, who was killed in action with the British Expeditionary Force in France, while serving with the Kings Royal Rifle Corps, on September 1916. Harry, his mother and two younger sisters, Phyliss and Iris, moved from Woodhouse Road in Leytonstone to Canvey Island in Essex shortly after the war and ran a small cafe on the seawall at Small Gains Creek, the centre of small boat activity for Canvey at the time.   She met and married Albert Mcrerie not long after and Harry's childhood was spent in the then green and pleasant land of Canvey, itself a holiday resort for exhausted Londoners.   The Mcreries had property on Canvey, several plots in Benham road. There were three dwellings and a shop on the plot, the White house, the Red house and the Cabin – a part converted railway carriage – quite a popular base for early dwellings on Canvey. I think his step sister Helen and step brother Peter were born then, though later they moved to Percy Road in Hampton, around the time of the second world war.
He joined the Sea Scouts and was swept up into the second world war in the Royal Navy, where he served on a variety of destroyers and warships, mostly doing escort duty to Russia and across the Atlantic. He clearly started painting before the war and continued on through the mayhem, as some of his works show.  His nature was to draw and paint for others as well as himself and he probably gave away many sketches of the wartime.
The war effectively destroyed the potential development of any proper career for Harry, as it did for so many others, and he decided to be re-skilled as a bricklayer before being demobilised in 1945.  He mentioned later to me that he felt he had little choice as he had not much idea then of what else he could do and there was sure to be plenty of work for builders. Adult education was not them what it is now and a bad choice could not be undone.   He made the best of it and became well known by the building community for fast, accurate and dependable work, and as a perfectionist. Many buildings still standing in Benfleet and Canvey were created or improved by his efforts.  Probably the best example stands just beyond the top of Essex way, at the house that used to be owned by Jack Purle, where he made many many modifications.
Bricklaying, while satisfying in many ways, was not enough and he started to develop his painting skills, eventually successfully submitting for a few glorious years to the Summer showing of the Beecroft Art Gallery in Southend. He never gained any formal recognition however, as a member of the various London Marine artists societies, which he found disappointing as his friend and trainee artist, Vic Ellis, did become a member of the Royal Society of Marine Artists. Later in life he joined the Hadleigh Arts and Crafts Society to much mutual satisfaction.  With a keen sense of the unique nature of that part of Essex , his many sketches show buildings and sights long forgotten, but which generally capture a rural, seaside atmosphere showing a local character much more attractive than today after so much building and industry has overtaken the area.
He became intensely interested in Thames Sailing Barges and the life and times of the old Chapman Sands Lighthouse as well as studying all the shipping that gave life to the river going past Canvey.  His papers contain many snippets of detail about the Chapman light, its construction and history, and of course he did many paintings and sketches over the years.   After he left the Navy, he lived for a time in the Cabin in Benham road and then a houseboat at Benfleet. He moved to the top of Vicarage hill at Berrymede, living as a lodger with the Robinson family for many years, before finally settling down to 67 Hall farm Road.  In spite of gathering a large family around himself, he really only knew four women well, His mother Gwen, His Aunt Ethel, my mother Edith Head of Canvey Island whom he met before the war, and Doris Wright whom he met in Benfleet in the fifties.   He was and is held in great affection by his family and his friends as well as people of only nodding acquaintance, as a familiar figure in Benfleet, especially at 'The Anchor' and 'The Hoy and Helmet' Pubs.
His building career came to an end when he refused finally to do sub-standard work for the company that was building the new University of Essex at Wivenhoe.  Possessed of a healthy temper, as we youngsters knew well, he walked off the job and subsequently had only spasmodic and unsatisfactory employment with the Basildon corporation, after a spell as handyman at Jack Purle's Yard in Rayleigh.  The remainder of his life was devoted to bringing up his family and painting in oils for small commissions.  One perceptive individual, Lawrence of the old Art gallery and shop in Southend, called Harry 'One of the best primitive painters in this part of England'  It was only when he explained that the famous Grandma Moses was described the same way by the global art community, that Harry realised he had been paid a compliment.