Kelly's Directory of Essex 1929
Canvey Island Residents and Commercial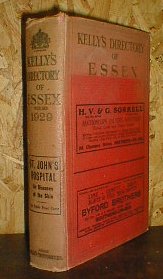 Canvey  Island, which is united to South Benfleet at low water by a causeway across Hadleigh Ray and originally part of the parishes of Bowers Gifford, Hadleigh, North Benfleet, Laindon, Pitsea, Prittlewell, South Benfleet, Southchurch and Vange, was formed into a civil and ecclesiastical parish 4 March, 1881, but under the provisions of the Canvey Island (Constitution of Urban District) Order, 1926, the parish was converted into an Urban District, with a council consisting of nine members: it is supposed by some to be the "Counos " of "Convennos Insula" of the ancient geographer Ptolemy, a name assigned by others to the Isle of Sheppy, and is a marshy island of the Thames, defended by high banks all round, erected in 1623: it is in the South Eastern division of the county, Rochford petty sessional division and union, Southend county court district, Canewdon and Southend rural deanery, Southend archdeaconry and Chelmsford diocese; it forms very rich grazing ground and includes a large quantity of arable land. Canvey church is 10 miles west from Southend-on-Sea and 2 south from South Benfleet station on the London, Midland and Scottish railway. The church of St. Katharine, erected in 1875 in the place of an earlier building dating from 1712, the only portions of which now remaining are some windows and the porch, is a structure of wood, consisting of chancel, nave, transepts and a small central belfry, with spire, containing one bell: there are 160 sittings. The register dates from the year 1819, previous to which date the entries were made in the South Benfleet register. The living is a vicarage, net yearly value £340, with glebe (£14) and residence, in the gift of the Bishop of Chelmsford, and held since 1929 by the Rev. Edward Bonamy Dobree M.A., L.Th. of Hatfield Hall, Durham.   Here is a small hall belonging to St. Anne's church and a Baptist chapel. The Chapman lighthouse was opened in 1851; it stands half a mile from the island due south-east. The principal landowners are the Ecclesiastical Commissioners, A. M. Clarke esq. And George Chambers esq. The island is 6 miles long by 3 broad, and contains 4,370 acres of land, 30 of inland and 2,640 of tidal water and 2,031 of foreshore; the population in 1921 was 1,795.
Post, M. 0., T. & T. E. D. Office, High street. Letters should have Essex added
Post & Tel. Call Office, Canvey-on-Sea.  Letters should have Essex added
Post, T. & T. E. D. Office, Canvey village. Letters should have Essex added.   Canvey Island is the nearest M. 0. office
Police Station, Long road
URBAN DISTRICT COUNCIL
Offices Long road.
Members.
Chairman, George Henry John Chambers J.P.
Henry Philip Ansell
Harold Jn. Ablitt Bensley
Henry John Dellaway
Roland George Francke
Morris Hartfield
Frederick John Leach
William Dring Read
Herbert John Wade
Private Residents
Attwell Frederick George. 'Dungannon', Long road
Barker Mrs. W. J.  'Arundel'. Long road
Benaley Harold,  'Benzfolli', Long road
Chambers George H., J.P. 'Maison Wick', Furtherwick road
Dellaway  Henry John. 'Redcroft', Long rd
Dobree Rev. Edward Bonamy M.A., L.Th. (vicar). Vicarage, Canvey Village
Ellis Robert Sidney M.B. Furtherwick park
Evans Miss Irene,  'Kingsley'. Central Wall road
Gilkes Julian Henry K.  'Runnymede', Long road
Gregson Capt. William H. The Lake
Hall William,  'Villa Violette', Long rd
Hand Miss. 'The Laurels'
Lawrence Eugene.  'Welbeck', Long rd
Levi Nissim, 'Kismet'
Read William D. School
Siemssen Herbert. 'Ubendycke'. Winter gardens
Turner Henry Ernest. 'Lomondside', Long road
Commercial
Alcock Mabel (Mrs.), boarding house. New ct. High st. Leigh Beck
Alcock Reginald. vulcanizer. Gills avenue
Alread & Evans, outfitters & wireless supplies dealers, 4 & 5 Gainsford parade. High street.
Allbut Ellen  (Mrs.) drapers, High st. Leigh Beck
Allen J. S. & G. A. Builders, High street
Allen Georgerge Arthur. confectioner. High st
Allingham Clement, confectioner. High st, Leigh Beck
Attwell Isabella (Mrs.), boarding house, 'Sunnymeade', Leigh Beck
Attwell Frederick George. butcher. High st. Leigh Beck & Lakeside.
Barclays Bank Ltd. (sub-branch). High st. head office, 54 Lombard London EC
Bateman Harry, blacksmith. The Village
Bateman Leslie Jas. Newsagent. High st. & Lakeside corner.
Beckwith Charles. butcher. The Village
Beecroft Walter. G. Solicitor. High st
Bell Charles. boarding house. Shell beach
Bichnell Percy, fishmonger. High st.
Blanks Rt. confectioner. The Market, High st. Leigh Beck
Bohemia Park Hall, High st
Bone & Son. butchers. High st.Leigh Beck
Brown's Stores, grocers, Leigh Beck.
Brown Charles. farmer. Scar ho. Haven rd
Bruce-Jones, Charles. Refreshment, rooms. Travellers' Rest, High st. Leigh Beck
Bubbers Florence A. (Miss), nursing home, St. Francis, Oyster Fleet.
Budd Rt. fruitr. 7 The Arcade. High st
Burchfield Hannah (Mrs.), estate agt. High st
Camplin Evelyn (Miss), refrshmnt. rms. Long rd
Canvey Club (John Stott. propr.) High st.
Canvey  Hall   (Morris Hartfleld, propr.) High st.
Canvey Island Market & Trading Co. Ltd. High st.
Canvey News (published sat.). High st.
Canvey Supply Co. (Eugene Lawrence, propr.). builders' mers. High st.
Card Stephen Herbert. shopkeeper. Kent view
Central Club (Charles Goddard. propr.) Foksville rd.
Chambers Horace E. dairyman, Furtherwick farm & High st. Leigh Beck
Chappie John. W. greengro. Lakside
Clark & Son. motor engnrs. Albert garage, Leigh Beck.
Clarke  Arthur  Mathew, farmer, Lubbins farm
Clarke Harold, shopkeeper. High st.  Leigh Beck
Claydon John. Farmer. Leigh Beck
Clements Ernest, dairyman, Leigh Beck & High st.
Collin Edith (Miss),confectioner. High st
Concord Private Hotel (Edmond. J. Askew, propr.). Shell beach
Convent of the Good Shepherd (Rev. Mother, superior)
Cook Fred, dairyman. Lakeside
Cox K. E (Mrs.), hotel proprietress; café & board-residence; dancing, Dovercliff road
Dellaway Henry John. The Hay Stack P.H. Furtherwick corner.
Dockerill Ernest Alfred. builder. 'Dawn', Winter gdns
Durbin A, & Son. butchers. Lakeside corner
Durbin Lilian (Miss), ladies' hairdrssr. High st
Eames Harold, shoe mkr, High st
Eames Margaret.  (Mrs.), confectioner. High st
Economic Stores, hardware dirs. High st
Ellis Rt. Sidney M.B., Ch.B.Edjn. physcn. & surgn. Furtherwick pk.
Express Laundry Ltd. (Walter. Rt. Byron, mngr.). The Arcade, London rd
Farley Alfred. house decrtr. 1 May av.
Fielder S. & Son, bldrs. High st.
Fisk  Frederick.   bldr.  Furtherwick corner.
Fletcher & Ingram, draprs. Lakeside
Foley, George Percy, plumber, 'Kai Terri', Furtherwick rd.
Franke R. & Son. bldrs. Oyster Fleet rd.
Fraser William Henry. haulage contractor. St. Margaret's, Lakeside
Fuller Dorothy (Mrs.), fruit.High st
Gaylard Henry. motor engnr. High st.
Gibson Edwin William. tea gardens, Shell beach
Girls Rest House (Miss James, matron). Lakeside
Golbourn Charles. Henry. greengrocer. High st. Leigh Beck
Grant Joan (Mrs.), draper. The Market, High st. Leigh Beck
Gregory E. Lennox. builder. Norman's rd.
Hall John Edward. fruitr. High st. & Station rd. Leigh Beck
Hart Henry, butcher. High st.
Hartfield Jane (Miss),draper.High st
Hartfield Montague, confectioner.High st
Hawes H. & D. Druggists; films supplied, dev. & printed, Cotswold drug stores. High street. Leigh Beck
Hazelton Mrs. refreshment rooms. High st.
Heed Charles. shopkeeper. High st. & Lakeside
Helleker William Charles. motor car garage. High st
Herbert John. boarding house. St. Hugh, Shell beach
Hill Arthur & Co. builders' merchants; manufacturers of Hills Chemical Closet, The Village.
Hill Frank, grocer, Soundy's stores, High St.
Hinton Ethel (Mrs.), greengrocer. High st. Leigh Beck
Holmes Bros. hardware dirs. High St
Holingbury Charles. boot repr. High St. Leigh Beck
Hotel Canvey (Nathan Dubosky, propr), Shell beach. Leigh Beck.
Hudgell John. G. greengro. High st
Humberstone Rose Annie (Miss), boarding house. Beach house.
Ingold Alfred John. builder. 'Dysholme'. High st. Leigh Beck
Jackson Harry, plumber, 'Yahna'. Leigh Beck
Jenning A. F. & Son, ironmongers. High st. Leigh Beck.
Johnson Maud (Miss), boarding house, 'Warlincourt', Leigh Beck
Johnstone William. builder. 'Rudyard'. Beach rd
Jones Alfred Louis, shopkeeper. Long rd
Keegan Frank, confectioner. High st
Kemp John. fishmngr. The Market, High St
Kemp Mary (Mrs.), greengro. The Market, High st. Leigh Beck
Killey Arthur. grocer. High st. Leigh Beck
King's Tennis Club (Galbraith King. propr.), Leigh Beck.
Kingsley Hall School (Private); pupils five years to fourteen. Beach road
Kynochs Hotel (Mrs. Esmé Fraser. proprietress). Hole Haven.
Laxen L (Mrs.), dressmaker. Norbotten av. Leigh Beck
Leach Arthur. farmer
Leach Frederick. Farmer
Leach Rt. G. hardware dir. The Market, High st. Leigh Beck
Ledru Flora (Mrs.), shopkeeper. Lapraire
Lewis Edith (Mrs.), confectioner. Furtherwick corner
Loe Alfred. builder. Small Gains.
Longman Alice Eliz. (Mrs.), confectioner High st
McCave Bertram A. advertising agent 'Vandervalt', High st. Leigh Beck
McCulloch R. R. dentist. 'Patmos', Liége av.
McLaren Thomas. stationers. The Clock house. High st
McNaughton Jean (Miss), boarding ho. High st. Leigh Beck
McNeill Frank Hugh, stationer. High St. Leigh Beck
Manly Edward William. builder. 'Westman lodge', Leigh Beck
Marsh Harry C. baker. Furtherwick corner & High st. Leigh Beck.
Maurice Hostel, 'Scott Holland house'. Winter gdns
Mecca, confectioner. High st
Millins Augustus G., F.A.L.P.A surveyor, estate & insurance agent. High street.
Mitchell Louisa (Miss),  private boarding school. 'Sea Holme', Gafnelle drive. Leigh Beck
Murch Henry Jas. Sign writer. Beach rd
Nickolds Percy, coal mer. 'Southview', High st.
Norris Edwin, watch repr. High Street
Nutt Jas. W. Solicitor. Pax. Long rd
Palmer & Stevens. bakers. High st, Leigh Beck & Hartfields par.
Pavilion Restaurant. Shell beach.
Payne William Jas. grocer, post office, Leigh Beck
Pearse's Motor Services Ltd. motor & omnibus proprs
Pease Percy J.farmer. Little Brick ho
Plant Sarah (Mrs.), refreshment rooms. Lakeside corner
Powell Charles, shopkeeper, Winter gdns
Powell Florence (Miss), boarding house, 'Warley', High st. Leigh Beck
Preedy Edward. builder. High st
Prentice Mary (Mrs.), grocer, Furtherwick rd
Pretty W & Sons, builders, 'Stag house', Sea View rd. Leigh Beck
Price Powell H., Estate agent & builder, Small Gains
Prickett Herbert. hairdresser. High st
Prince Henry, grocer,  The Market. High st. Leigh Beck
Rae Alex. fishmngr. The Arcade, High st
Redman Hubert, estate agt. Furtherwick rd
Rendezvous Club (Horace V. Went propr,). High st.
Ryall Percy, motor engineer. The Webley motor & cycle works: prams retyred & repaired. Lakeside corner
Scott Janet (Mrs.), shopkeeper. The village
Searle Maria W (Mrs.), boarding ho. 'Inglenook', Long rd.
Selby George. hairdresser. 4 The Arcade. High Street
Sherborne Dorothy (Mrs.), grocer, 7   Lakeside corner.
Shilson Ethel (Mrs.), ladies hairdressers. 'Blackthorns', Lakeside
Siemssen  Henry,   estate   agent, Winter gardens.
Small Gains Call Office, High st
Small Gains Club (H. Price Powell hon. sec.).
Small Gains Garage Ltd. High st
Soanes William. refreshment rooms. Cricksea. High st.
Stanford Thomas William. Red Cow PH, The Village
Stanley Ernest, baker, Lakeside
Stevens Herbert. decrtr. 'AIeco', Long rd
Stevens Oliver Charles. baker. High st. Leigh Beck
Stevens William. shopkeeper. 'Mayboy', Station rd. Leigh Beck
Stott & Bubbers, grocers, High st.
Tait George Reginald, china & glass dir. High st. Leigh Beck
Tasker Frank, shopkeepr. High st. Leigh Beck
Theobald Henry William, farmer
Thurston Albert H. grocer, High st. Leigh Beck
Tibbett William. J. builders' mer. The Village
Tipler Walter, fruitr. Floss cottage. Leigh Beck
Tower Stores (Archibald Kain, proprietor). High street.
Trangmar Jas. coal mer. 'Dyaholme', High st. Leigh Beck & Lakeside
Trixie, The Wool shop. High st
Tutfield Reginald Albert. grocer. Post office. High st.
VenabIes Charles Page M.PS. Chemist. High street, Leigh Beck
Wade Henry. market gardnr. Better Ole
Wade HerbertJohn. nurseryman, Leigh Beck
Wainwright Alfred. bidr. 'Vinehill', High st. Leigh Beck
Walker John Taylor, confectioner.Long rd
Ward John. fruitr. 'St. Aubyns', Station rd. Leigh Beck
Went Jas. Lobster Smack P.H. Hole Haven.
Westall Isabel (Mrs.), refreshment rooms. Station rd. Leigh Beck
Westminster Bank Ltd. (sub-branch), High st.; head office, 41 Lothbury, London EC
White Harry & Joseph. Marshall, farmers. Long rd.
Whitney Albert Cecil, boot repr. Lakeside
Wilcox William John. hairdrssr. High Street. Leigh Beck
Woods Jas. & Bone John Horace, grocers. Post office. The Village
Woods George, baker. The Village
Yorworth Frederick. confectioner. High st
Young Herbert. Newsagent. Winter gdns