The Chapman Lighthouse
by H Read c1930s/40s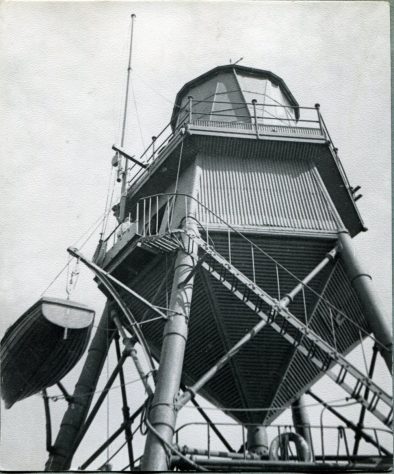 I have recently been uploading photos taken by H Reed in the 1930s/40s. A photo album was given to us by Norman Chisman, local historian, who had used many of Reed's pictures in his lectures about Canvey. In my effort to find out who H Reed was has born some fruit.
Frank Whitnall another local historian whose many articles appear here on the archive met the man in the 1960s. His name according to Frank was H L Read and Frank says:-
"I met him only once at his bungalow off Haven Road at some time in the 1960s when he was in his late 60s. He appeared to have retired by then and told me of his one indulgence – a daily swim off Hole Haven or along the beach whatever the weather. As far as I know he lived alone.
The photographs he showed me were entirely of a maritime nature and Canvey Island – and I could see that he was a serious and talented photographer – making me very aware of my mere 'snap-shot' capability!
During our meeting, when he agreed to lend me a number of his photos of the Chapman Lighthouse he showed me his only souvenir of the old lighthouse – a small cast-iron lion's head, smaller than a man's fist, taken from some part of the dismantled superstructure."
These are the Chapman Lighthouse pictures Frank refers to and they are featured with his articles on this site.
I can find no Reed or Read of this name in the 1929 Electoral Roll although there was a Dorothy Florence and a Florence Read at 'Rosedale', Urmond Road. I have found a Horace Leslie Read born c1900/1 who died in the Southend Registration District in 1976 and I suspect this is the same person. If anyone can tell us more please comment below.