Crimean Relic
Manchester Evening News 19 Sept 1883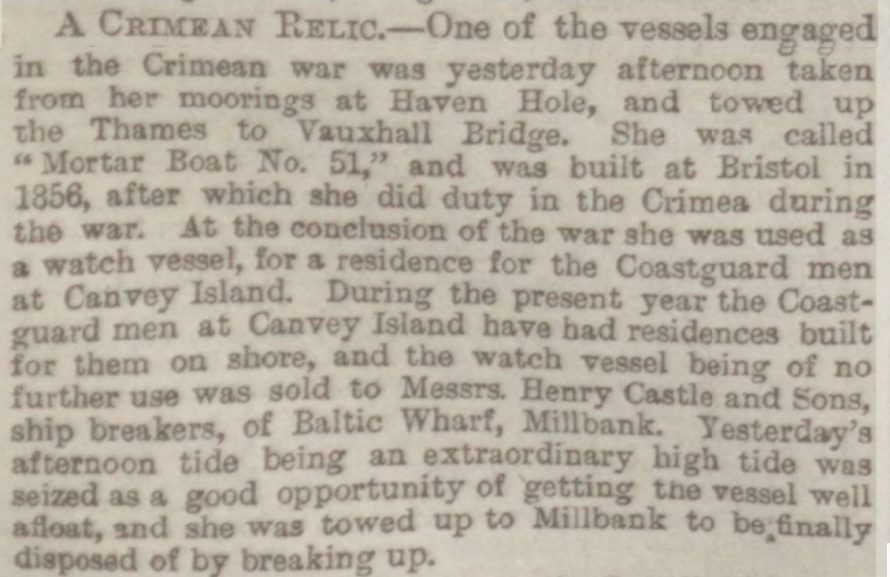 A Crimean Relic.—One of the vessels engaged in the Crimean war was yesterday afternoon taken from her moorings at Haven Hole, and towed up the Thames to Vauxhall Bridge. She was called "Mortar Boat No. 51," and was built at Bristol in 1856, after which she did duty in the Crimea during the war. At the conclusion of the war she was used as watch vessel, for a residence for the Coastguard men at Canvey Island. During the present year the Coastguard men at Canvey Island have had residences built for them on shore, and the watch vessel being of no further use was sold to Messrs. Henry Castle and Sons, ship breakers, of Baltic Wharf, Millbank. Yesterday's afternoon tide being an extraordinary high tide was seized as a good opportunity of getting the vessel well a float, and she was towed up to Millbank to be finally disposed of by breaking up.
~~~~~~~~~~~~~~~~~~~~~~~~
We understood the vessel used by the Coastguards was 'HMS Emulous' built in 1819 unless the above was a later vessel brought in after the Emulous. Any comments would be welcome.