The Essex floods
Canvey Island inundated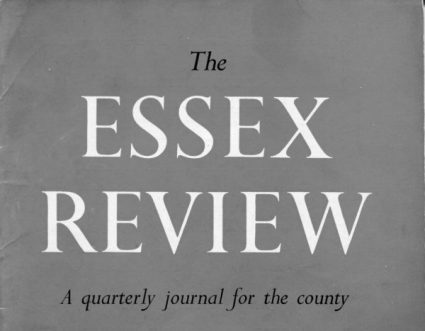 Was this 1953?
No, this article was published in the Essex Review in January 1898 and they were talking about the floods of November 1897. Apart from the date and loss of life the two incidences are remarkably similar. The Essex Review was first published in 1892.
~~~~~~~~~~~~~~~~~~~~~~~~~~~~~~~~~~~~~~~~
"After the terrible south-westerly gale of November 28th, the coast and low-lying land of Essex was visited, on the afternoon of November 20th, by a disastrous high tide, causing immense havoc and enormous loss and suffering, with extensive and widespread damage, especially to the sea-walls protecting the marshlands.
Previous to the time of high water, the wind shifted from a strong south-westerly gale into the north-west and north. This circumstance made high tides both in the English Channel and in the North Sea, and when these tides met it caused quite a bore in the Rivers Thames, Crouch, Blackwater, Colne and Stour; all accounts agree that the ordinary tide was ebbing when it returned with amazing swiftness, overflowing the defences and causing large breaches in the sea-walls…. Many serious disasters from extraordinary tides in Essex are recorded, e.g., 1324, 1376, 1448, 1527, 1690, 1707, etc. . . . The disaster to our Essex islands of Canvey in the Thames, Foulness, Wallasea and the other four of the group between its mouth and the Crouch; Northey in the Blackwater; and the islands between Walton and Harwich, was almost complete. They were almost entirely under water. Nearly the whole of Thames-side, especially Purfleet; the marshes of Barstable, Rochford, Dengie, Thurstable, Winstree and Tendring hundreds, Leigh-on-Sea, Shoeburyness and Southend, Burnham-on-the-Crouch, Maldon, Mersea, Brightlingsea, Walton-on-Naze, Harwich and Dover-court suffered severely. The temporary losses and suffering were great, but fortunately there was no loss of human life, as happened in the inundation of February 16th, 1735 (see Salmon's History of Essex, p. 426), though many narrow escapes and exciting scenes and gallant rescues were abundantly displayed. The loss of wild and domestic animal life was great, and permanent damage to many thousands of acres must result. It is doubtful if certain lands will be again reclaimed, possibly in some districts many acres of our county will revert to the encroaching sea. … It will be many years before the affected districts of our county can recover from this unfortunate disaster."