Canvey Island......Flood memories.
Early morning....Feb. 1st 1953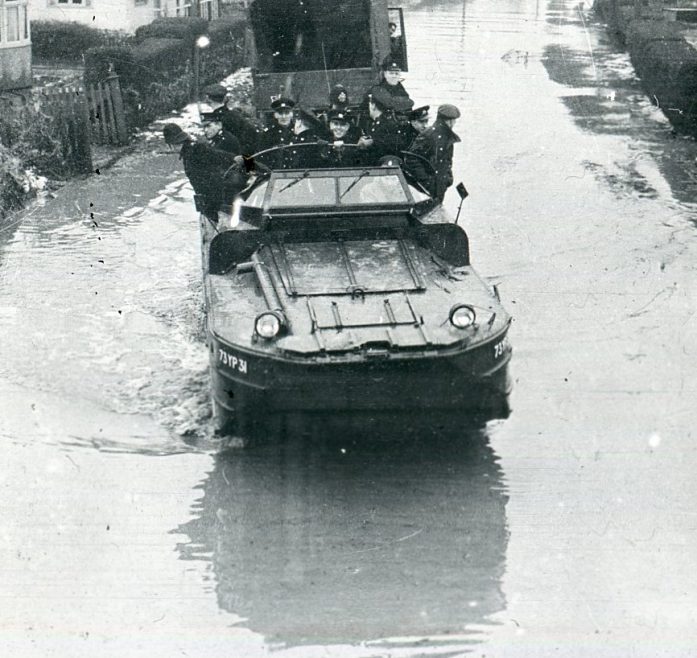 Following a very traumatic night, that had included being followed home to Marine Approach by the tidal wave that was sweeping across the Island, I watched my parents and sister climb aboard one of the amphibian type craft, (Army Evacuation Vehicle) to be transported to the Mainland.
I do not remember exactly why I had chosen to stay on the Island, but as I worked for the North Thames Gas Board as an apprentice gas fitter, I probably felt that I should make my way down Furtherwick to the Gas Co. yard; just to see what my fellow employees and I could do to help under the circumstances.
After riding my bicycle whenever possible, and wading through water for most of the way, I arrived at the Yard to find that a few of my buddies had also made it there. I believe that Mr. Clare, the Manager, said that a normal workday would of course be impossible. He suggested that we "pair up", go out into the different areas to render whatever assistance possible and at the same time, make note of any problems to do with the underground gas system, (leakage or broken lines etc.)
I was teamed up with the other apprentice Vic Hills, we set out to Lakeside Corner and then East towards Chamberlain Ave. where I had been visiting the night before. On reaching Larup Avenue, we came upon a Red Cross vehicle where members were distributing tea, food and clothing, to residents who had been rescued from their homes located along the deeply flooded roads in that area.
Vic and I soon spotted a rowboat that was not being used; we quickly jumped in and set off. We had been told that there were people trapped in their houses, especially in the Rainbow Road area, but mostly along the roads north of the High Street.
During our boat trip, we took turns at rowing and calling aloud to see if anyone required rescue. We saw many dreadful scenes, including one deceased person (on a rooftop, most likely from hypothermia) and another person, caught up in a tree and probably drowned. As the Police were dealing with those situations, we continued on, there was an eerie silence and our voices echoed, as we called out, in an effort to contact survivors needing to be evacuated.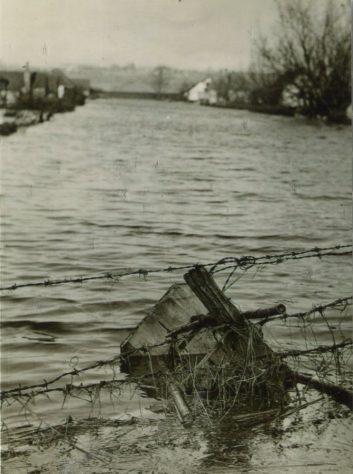 It was while rowing along one of the deeply flooded roads, that we heard a small cry coming from one of the houses. Seeing that the window of a bungalow was broken, we manoeuvred our dinghy over to the window.  On looking inside, we saw a lady sitting on her bed, which had floated up as the water had risen. There was a strong smell of gas and we felt that the gas line beside the house was probably damaged. The lady was very glad to see us; we could only imagine the frightening night that she must have endured. Vic then told me, "the nine stone weakling," to, "hang on to the window and steady the boat", while he tore off the window frame and somehow got into the flooded room. I watched him make his way over to the bed where he promptly picked the lady up and came back to where I now had to steady the boat while he lowered her into it. After a lot of rocking and near capsize, we had our survivor on board and started back along the roads to where the Red Cross were still doing their much-needed work.  I wish that I could remember our passenger's name, but 50 years have erased that and many other events and experiences connected with the period immediately following the floods.
I do, however, remember being back at that lady's home some weeks after the floods on Gas Co. business. We talked about her rescue and how fortunate we were to have heard her cries for help.
Following the initial flood and attempts at evacuation and rescue, I spent the next several days working with many others, in the effort to dig huge channels in the sea wall, in an attempt to drain our beloved Island, which then had to be reclaimed and protected by the new "all steel" sea wall.
All of this had occurred just eight years after the frightening events of W.W.2 on Canvey Island, which became known as part of  "Doodlebug Alley".