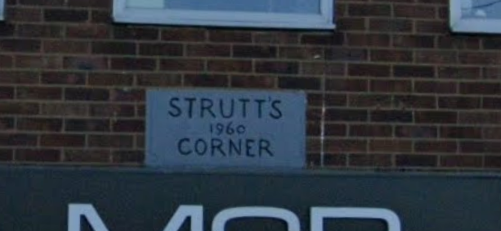 We are very grateful to cousins Tricia Lowther and Liz Bushell for giving us permission to add these fantastic photos to the site.
The shop was owned by Edward Kimber and his wife Maria. The couple married in Walthamstow in 1917. Maria's maiden name was Strutt where I assume the name came from. Their daughters Joyce and Jess can be seen in the photo below.
Liz says: Strutts Stores was the family name from my great grandparents shop in Walthamstow and they seemed to continue with that although that was my nans name and grandad was Kimber! They had the shop there from before the war, not sure exactly when they moved.
In the late 50s they sold off land to the left to the post office, then the Maypole supermarket took over the old shop building and was then redeveloped, then
the 2 shops on the corner- with Strutts Corner in the brickwork. My mum and dad, Jess and Glyn Evans, ran the greengrocers and we lived upstairs, and next door was rented by Eastern Electricity and My Aunt and Uncle, Joyce and Pat Curran and family, lived upstairs there.
The first two photos show the shop in 1953 wearing decorations for the Coronation.
The next photo shows the shop when it became Maypole Supermarket and the last one show the new shop when it was later rebuilt.
The last photo is from an old postcard looking south. Strutts shop is the first one on the right.