'Atomic Bomb Proof' Bungalows
Miramar Avenue/Long Road
This picture was sent in by Frank Whitnall. His son Simon found it while browsing at the Battlebridge car meet. It is inscribed:
'Jim, Kit, Reg and Olive. Mirama Avenue, Canvey Island'
Miramar Avenue (at right angles to Long Road) is part of a small estate of so-called 'Atomic Bomb Proof' Bungalows built shortly after WWII and this photo appears to have been taken in the late 50's. The name on the gate belonging to another pair of bungalows, just out of view, is 'Brockenhurst'. (see enlargements in the gallery below)
Does anyone know who 'Jim, Kit, Reg and Olive' were?
The following picture was taken at the same location in Miramar Avenue in 2009. As you can see one of the pair of bungalows in the picture above has been demolished and two new ones have been built. The furthest bungalow on the right (painted blue) on the corner of Long road is one of the original bungalows but with an apex roof.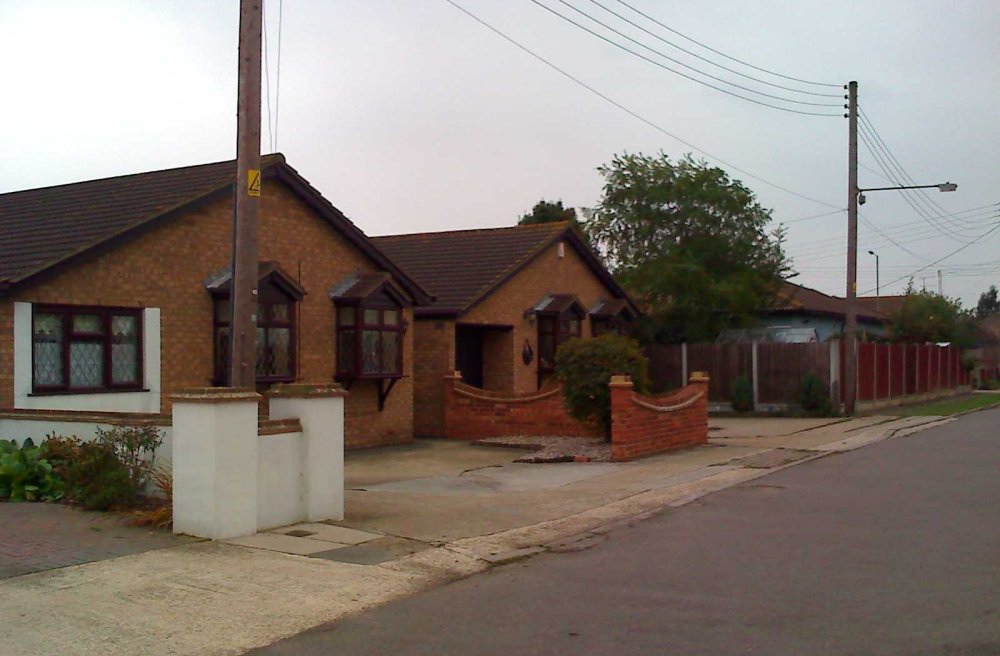 The next picture is of the four pairs of the bungalows in Long Road and the last picture is as they are today.
The pair of bungalows where the name on the gate was 'Brockenhurst' can be seen in the gallery below as it is in 2009. The only other bungalow still in its original state is in Long Road and can also be seen in the gallery below.
Quite why the buildings were called 'Atomic Bomb Proof' we do not know, if anyone has anymore information on the construction or how they come to be known as such, please make a comment below.
Update see plans of bungalow here