Youngsters take the high road challenge
Echo clipping 1990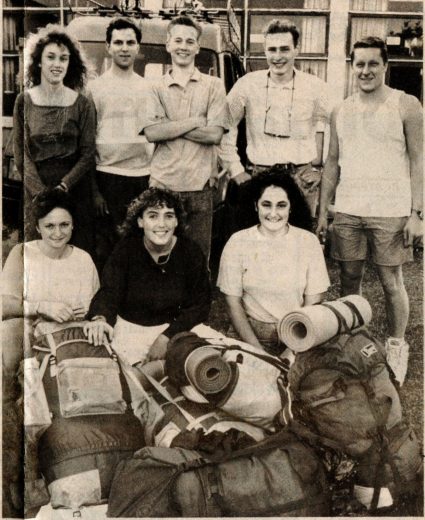 I love to go a wandering along the mountain track . . . and that is just what a group of young people from Canvey's Youth and Adult Education Centre are doing right row.      Before setting off for a gruelling four-day hike on the Scottish highlands of Ben Nevis, the members with their coach Alan Shrimplin got geared up and ready to go.
The expedition is a culmination of around three years' hard work, which will result in each of them receiving their gold Duke of Edinburgh Award. The centre members, aged between 16 and 23, have already achieved their bronze and silver, trekking in the beautiful Lake District and in Derbyshire.
Centre manager Simon Pollock said: "They had been planning routes, holding training practice and working hard at the centre for this trip. The idea is to encourage teambuilding, mutual respect and leader quality."
The group which left last Friday is expected to return on Sunday. They will have spent two days getting acclimatised to the atmosphere before setting off to explore Ben Nevis for four days. The rest of the time has been left for them to decide what to do.
This is just one of many activities that youngsters at the centre participate in. In August a group of young people from the centre are joining others in the county for a two-week expedition to the Pyrenees, the range of mountains between France and Spain.