Canvey Island Flooding
Report to the Canvey Island UDC by Ron Foyster, Deputy Engineer and Surveyor
Night of 31st January/1st February, 1953 and week following.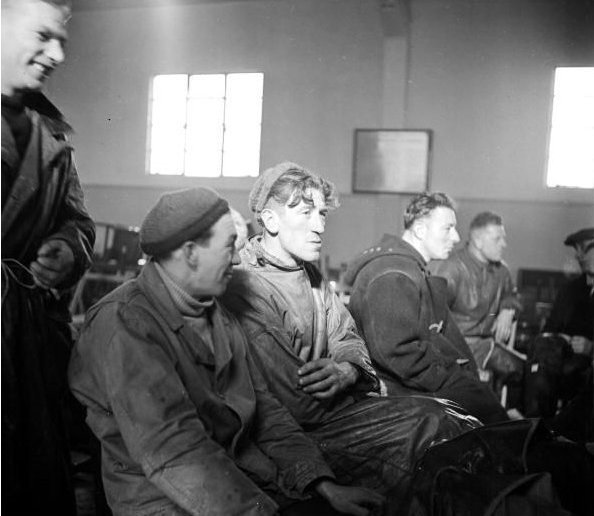 Action by the Canvey Island U.D.C. Staff commenced after the Surveyor, (Mr. R. H. Stevens. M.C., M.I. Mun.E.,) had been knocked up by the local Police   Sgt. at 12.50 a.m. and warned of an expected high tide. The Surveyor immediately left home for the office and en route inspected the level of water over the sea wall near his home in order to gauge the position.  He realised it was likely that water in parts of the Island would lap the top of the walls and at the office called out his Deputy Mr. R. C. Foyster (A.R.I.C.S.) (Hon. Secretary Local N.A.L.G.O. Branch) and informed the Telephone Exchange to put all calls received regarding flooding through to the office. Some Council workmen were also called in with a lorry.
Mr. Foyster quickly on the spot was sent to Waterside Farm to ensure that flood boards were in position. The Surveyor contacted the Police Sgt., exchanged information, and on receiving a call from one Area that water was 3ft deep, called in the Local Volunteer Fire Brigade who were despatched to give a General Warning in the-area affected. Mr. Foyster reported back on position at Waterside Farm and was despatched to warn certain areas and to open a School at the Eastern end of the island as an Emergency Rest Centre.  The Fire Brigade reported back that water was rising rapidly in the High Street and a general warning was given by Air Raid Siren (Wailing Note) and Maroons. Two other schools were opened as Rest Centres, and local Cafes awakened to make tea for evacuees. These were in operation by 2 a.m. A call was made by the Surveyor to the Chelmsford Police H.Q. giving information and calling for Rescue appliances, boats and Ambulances etc. to be available to come onto the Island as soon as water subsided at the Bridge. Mr. Foyster phoned to say he was marooned in the High Street and gave further information. One of the local Councillors (Mr A.C. Mason C.C.) was asked to go to the school at the Eastern end and control Rest Centre.  Local Ambulance crew and Doctors were called on and also Mr. R. Cockle, Chief Engineering Assistant.
At about 2 a.m. Telephone Communication was cut off and only communication with mainland was by a R/T on Ambulance. Further investigation of position was made, and Surveyor called by R/t for Rescue Vehicles, Boats, Ambulances, and the Welfare services to be collected at Benfleet to receive evacuees which were coming in to temporary Rest Centres at the Schools. He sent for Mr. J. Rumble, (Deputy Clerk) to deal with Rest Centres and Welfare side.
Rescue work was proceeding at this time by Firemen and other local people but handicapped by lack of boats and the Surveyor took a number of Council workmen to break open the premises of a folding boat works and obtained a number of canvas boats for rescue work.
In one of these he paddled into one of the worst affected areas to investigate the position in detail. At this time Mr. Cockle was making a reconnaissance of breaks in sea wall and Mr. Foyster had set up a forward H.Q. at a local builder's office.  The operation was being conducted on Military lines. Ambulance, Fire and Police reinforcements were coming in.  Mr. Rumble had organised the Rest Centres and Ambulances were taking off casualties and rescue was proceeding at a faster rate. Further calls were made by R/T to Ambulance Control calling for High Wheel Army Vehicles, more boats and Amphibious vehicles, and vehicles were despatched to Benfleet to pick up more boats. Mr. Foyster was collating all the information at advanced H.Q. and directing vehicles arriving. Between 3.a.m. & 4.a.m. the last Sewer Pumping Station was overwhelmed despite efforts to keep out the water.
At 8 p.m. a comprehensive picture had been obtained and the Surveyor informed Supt. Pope of the Essex Constabulary that it was likely that evacuation would be widespread. The whole operation was proceeding rapidly but under control. The Surveyor made a detailed reconnaissance of the wall breaks and at 10 a.m. with Supt. Pope decided that it would have to be complete evacuation of almost the whole of the district. By this time (10 a.m.) the Surveyor had a map giving general positions of all the general breaks in the sea wall, and later discussed the position with the Chief Constable and Mr.Bernard Braine M.P.at the Police Station.
By this time the various rescue services and evacuation services by bus, lorry, car and ambulance were, building up and Police reinforcements with radio cars were supporting the earlier efforts of all the local members of these services.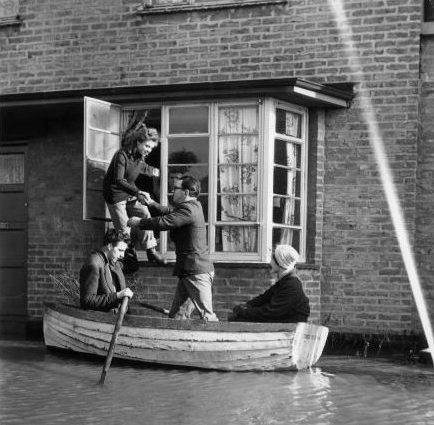 When it was realised that the Council's own limited labour force could not cope with the many breaks the forward H.Q. was closed down and all men concentrated and directed onto rescue operations as men, boats, dinghies and lorries arrived together with buses to focal points and rescue operations continued all through Sunday, including, as the tide rose, Cocklers, Shrimpers, Fishermen, Whiteweeders and Yachtsmen from Leigh and Southend who evacuated people taken to the walls.  This eased the internal rescue services considerably.
Rescue operations continued all through Sunday night, but on Monday a number of boats were collected at the Council Offices and in conjunction with A.D.O. Day, Essex County Fire Brigade, Station Officer Jones of the County Ambulance Service and Capt. Wardle, Grenadier Guards, the Police and Mr. Foyster, a central rescue control was established with Mr. Johnson, Rating Officer, and later Mr. Lock-Dingley, Committee Clerk and Mr. Bramsey C.D. Admin. Clerk, as a Control Office Staff, and in this way demands for rescue were systematically met as required using County Fire Service vehicles and Army "Matadors" (high four wheel drive vehicles) all with one man with local knowledge and Ambulances. Those rescued being brought to the Council Offices and despatched by Ambulance, coach and bus to Rest Centres organised in schools on the mainland by the County Welfare Department.
Early Monday afternoon, Mr. Ernest Marples, Parliamentary Secretary of the Ministry of Housing and Local Government, Mr. Elliott (Ministry Inspector), Capt. Peel (Chief Constable, of Essex), Mr. Berridge (Deputy Clerk of Essex County Council) came to the Council Offices. They met the Chairman of the Council, (Mr. F.T. Leach J.P.) the Engineer and Surveyor (Mr. R.K.Stevens) and Mr. J. Rumble (Deputy Clerk) and explained the policy of the Government for aid and relief of the distressed. After a discussion an inspection was made of some of the bad breaches in the sea walls. This was followed by a conference with Mr. Gray (Civil Engineer) of the Essex Rivers Board (the Authority responsible for the repair of the walls), on a policy for reducing the water level on the Island and repairs to the walls.
By this time the Civil Defence Corps for S.E.Essex (under the direction of Mr. Hatt, Clerk of the Billericay Urban District Council and Sub-Controller for the Division) was in operation and the Local Authority Services involved were working full swing. Council Officers, workmen, Fire Brigade, Police and Ambulance Officers had their first hot meal on Sunday at about 4.30 p.m. This meal was supplied in the Primary School (the school used in the early hours for the reception evacuees) by the meals Supervisor (Miss Mason).
On Monday night and thereafter, evacuation of marooned , persons, except in emergency, was suspended after darkness and renewed at first light each day until Wednesday when all except, those who had elected to stay had been evacuated.  Rescue and evacuation was made difficult due to the presence of 'deep dykes,' fences and obstructions and varying depths of water, and last but not least the necessity for some rest by the rescue crews who had been at work over 4O hours continuously.  Mr. P. A. Short (Building Inspector) from early Sunday morning had been engaged on Rescue operations in one of the most difficult areas.
From Monday onwards the Clerk of the Council (Mr. R. Whitley) established a H.Q. in the Council Offices and the Staff have worked day and night co-ordinating activities and dealing with the hundred and one problems which arise daily, with Miss King the most Junior turning up as if it were a normal day.
From the first day (Sunday) Mr. Cockle maintained a daily Flood Record (state of the water levels) later with the assistance of Mr. Webster as water receded and more and more dry areas showed. In addition various daily checks were kept on sluice depths, and relative water levels in adjoining walled areas.
At the request of the Rivers Board, our Direct Labour Gang had started on Monday cutting temporary sluices in the North walls, timbering them with timber ferried to them by a team under Mr. Short and cut and delivered to him by a team under Mr. Cockle operating from a local timber wharf. All sluice timber used by Contractors also came from this source, some being rafted to position at high tides.
On Friday at the request of the Police a Council Lorry was placed at their disposal for a mortuary service supplemented later by a local undertaker and eventually handed over to them completely.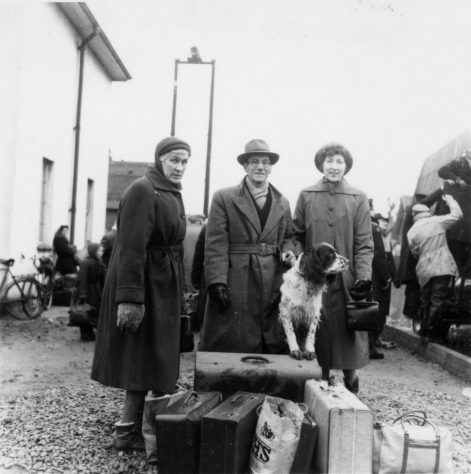 At 8 o'clock Monday evening, the Middlesex County Council Mobile Canteen unit, under Mr. Thorpe and Mr. Stapleton, and with their W.V.S. arrived and set up in the Rate Collection Office, first with snacks, soup and tea and subsequently building up through Mr. Gregg of the Essex County Welfare Organisation from their original intended 100 meals until they were feeding all persons, Civilians and Services on the Eastern half of Wall repair work through a mobile canteen and rescue personnel from the offices. At various times this unit catered for all rescue, Army and Civilian personnel due to break downs in other arrangements, opened a further two canteens serving over 1 ,000 hot meals daily, besides teas and snacks. H.M. Services' cooks were attached to them.
On Tuesday the Pumping Station Engineer, Mr. Rowle, was instructed by the Surveyor to get the Electric Motors and gear out of the five flooded Pumping Stations.  By Friday all of these had been removed to the Eastern Electricity Board's Southend Sub-Area Workshops for checking and drying.
On Wednesday a complete wall Survey was carried out by Messrs. King (Camberwell B.C. and a former Surveyor) Mr. Ottewell (Rayleigh U.D.C.) and our own Junior Assistant Mr. Webster, necessitating the walking of over 26 miles of wall recording accurate data upon each of 4O breaks and innumerable slips.  This was placed at the disposal, of the Rivers Board on Wednesday after some intensive plotting by Mr. Cockle.
Mr E R Johnson was appointed Food Control Officer to co-ordinate supplies to the centres.
By Friday the Council workmen had been allocated various daily duties, Refuse Collectors returned under the control of the Sanitary Inspector (Mr. D. J. Legg) for limited refuse collection and removal of dead animals and collection of salvaged materials. The Street Sweepers cleaning roads clear of flood water and the Direct Labour Gang under Mr. Cockle were engaged on keeping sluices and culverts clear, digging new waterways where necessary to ensure no hold up in drainage of flood water.
~~~~~~~~~~~~~~~~~~~~~~~~~~~~~
With thanks to the Town Council for passing this report to us.