Repairing devastation and carrying out relief operation in the areas which have been so tragically overrun by the set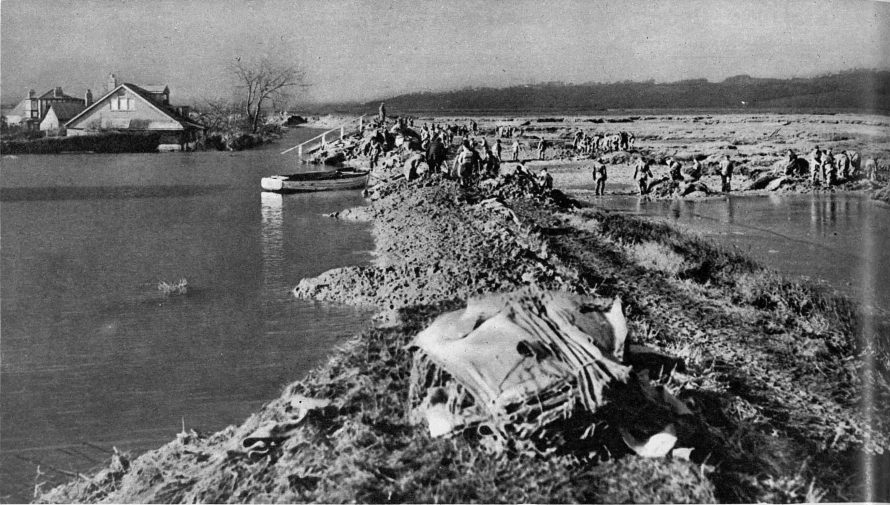 Fighting the battle of tewkes main amid the desolation of Canvey Island:
Troops are seen hard at work attempting to build up the embankment at a point where the main floodwaters had roared across in a tidal wave, leaving the house seen on the left flooded up to the first-floor windows. It has now been estab­lished that forty breaks were made in the sea wall at Canvey, and emergency repairs were put in hand last week by the River Board, aided by troops, whose vital, primary task was to make Canvey watertight. It was generally recognised that Canvey presented the scenes of greatest devastation on the east coast, and the view was taken by engineers that if Canvey had not suffered, the water would have poured up the Thames, creating havoc nearer the heart of the Metropolis.
| | |
| --- | --- |
| | |
Sandbag operations on Canvey:
Left—Men of the Royal Air Force preparing to load sandbags into boats for conveyance to the various points where the sea defence! were broken. Right—Layers of sandbags already in place along the Canvey wall which is also depicted at the head of this page during an earlier stage in the work. The initial task was to provide sufficient defences to ensure that there would be no break-through during the high tides in the second week of February. The R.A.F. played a notable part in the task, and between Harwich and Barking it was estimated that last week they were filling over 280 breaches in the defence system.