'Battle' of Canvey Island
Newspaper report date unknown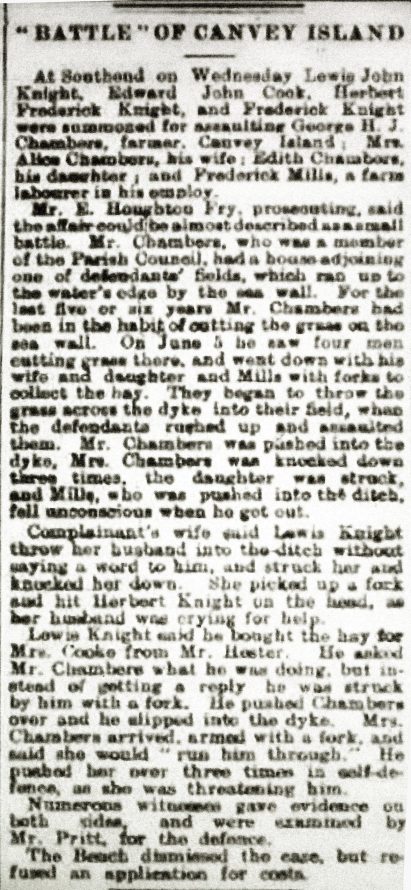 At Southend on Wednesday Lesley John Knight, John Cook, Herbert Frederick Knight and Frederick Knight were summoned for assaulting George H J Chambers, farmer, Canvey Island; Mrs Alice Chambers, his wife; Edith Chambers, his daughter and Frederick Mills, a farm labourer in his employ.
Mr E Houghton Fry, prosecuting, said the affair could be almost described as a small battle. Mr Chambers, who was a member of the Parish Council, had a house adjoining one of the defendants' fields, which ran up to the water's edge by the sea wall. For the last five or six years Mr Chambers had been in the habit of cutting the grass on the sea wall. On June 5 he saw four men cutting grass there and went down with his wife and daughter and Mills with forks to collect the hay. They began to throw the grass across the dyke into their field, when the defendants rushed up and assaulted them. Mr Chambers was pushed into the dyke, Mrs Chambers was knocked down three times, the daughter was struck and Mills, who was pushed into the dyke, fell unconscious when he got out.
Complainant's wife said Lewis Knight threw her husband into the ditch without saying a word to him, and struck her and knocked her down. She picked up a fork and hit Herbert Knight on the head, as her husband was crying for help.
Lewis Knight said he bought the hay for Mrs Cooke from Mr Hester. He asked Mr Chambers what he was doing but instead of getting a reply he was struck by him with a fork. He pushed Chambers over and he slipped into the dyke. Mrs Chambers arrived armed with a fork and said she would "run him through." He pushed her over three times in self-defence as she was threatening him.
Numerous witnesses gave evidence on both sides and were examined by Mr Pritt for the defence.
The Bench dismissed the case, but refused an application for costs.