My Dearest Mildred
Love letters from the 1930s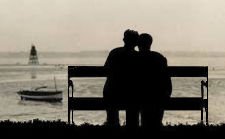 Over the period of two years (1930-32) Ron wrote to Milly who had connections with Canvey Island and the Stuckey sisters. Ron was born in 1908 and Milly was born in 1910 in London. What Milly's actual connection with the Stuckey sisters was we do not know but she is mentioned in a family letter 'from Ruby to Horace about has Archie found a school for Millie'.
The sisters were mention in the earliest letter from Ron who says 'Did you get in without rousing the Misses Stuckey?' When the Stuckey papers were passed onto the Stuckey family we asked if they had any idea who Milly was and unfortunately they had never heard of her. Most of the letters were sent from London where Ron appears to work in an office but is also studying. Milly is at first at 'The Nutshell' Roserna Road then at College in Dartford.
Ron, with or without his brother, Norman, stayed on the island at 'Mon Abri', Shell Beach with Mrs Winters. (1929 Electoral Roll puts Thomas and Louisa Winters at 'Mon Abri' in Vlodorp Avenue. AKA Maurice Road.)
The following are just a few quotes mentioning people/places of interest on Canvey. The letters are from a love sick Ron and from what he has written, an unrequited love. But for us it helps to show a little about life on Canvey in the early 1930s.
I shall climb the Monument this morning to see whether you are visible or not. Upon my last journey into the heights I had no occasion to look for Canvey, but now …….
I made many attempts to converse with Miss Stuckey but it was not until ten o'clock last night that I was able to get her alone. You know the results.
You sat swinging your legs on the little foot-bridge by 'Mon Abri'.
Do you remember your ride to Benfleet? That blessed bus didn't jolt half enough for my liking.
Ron was staying at 'Mon Abri' (not sure of spelling) July 1930 and talking about joining Small Gains Club.
Do you remember the evening of Easter Monday 1930? I guess not, but everything is indelibly imprinted on my mind and if I tell the truth, in my heart. Sitting wide apart, throwing pebbles into the sea. Setting my muffler about your cold knees. Your falling to rest with your head upon my chest. A lump in my throat and then somehow I kissed you
If Mrs Winter will put up with my bad habits I expect I shall be at Canvey yet again this year. I know people think me potty for going there. But still I enjoy myself in the fresh air. Anyhow I can always clear back to town if I get fed up. If you should be there for an hour or so and from the Maison Stuckey, copy a short squat figure outlined against the top of the seawall, it'll be a body you know.
Do you remember sitting under the veranda with my muffler wrapped around you knees?
I wonder what ever happened to them?