'History of the Thames, 1887, from it's source to the Nore'
by Charles Dickens Junior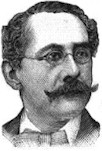 Charles Dickens, Jr , born Charles Culliford Boz Dickens (1837 -1896), was the first child of the novelist Charles Dickens and his wife Catherine.
Canvey Island (Essex) is situated on the Thames, about 12 miles below Gravesend, and is close to Hole Haven, or Holy Haven, and not far from Thames Haven. There is a very comfortable and unobtrusive inn, where boating men are frequently accommodated with bed and board. The population of the island, purely agricultural, is about 300. The very pretty little church is dedicated to St Katherine. There is a coastguard station on the island, and Benfleet station is on the land side about three miles from the water. There is a fine shell bay and beach, which nearly at all times of the tide is a most pleasant walk close to the sea.
NEAREST Railway Station, Benfleet, on the London Tilbury, and Southend Railway, about 1 hour 30 minutes from London; Steamboat-piers, Thames Haven and Southend. Railway fares, Benfleet to London, 1st, 3/9, 6/3; 2nd, 2/10, 4/9; 3rd, 1/11, 3/10.