My Childhood memories of the 53 Floods
From Valerie Deane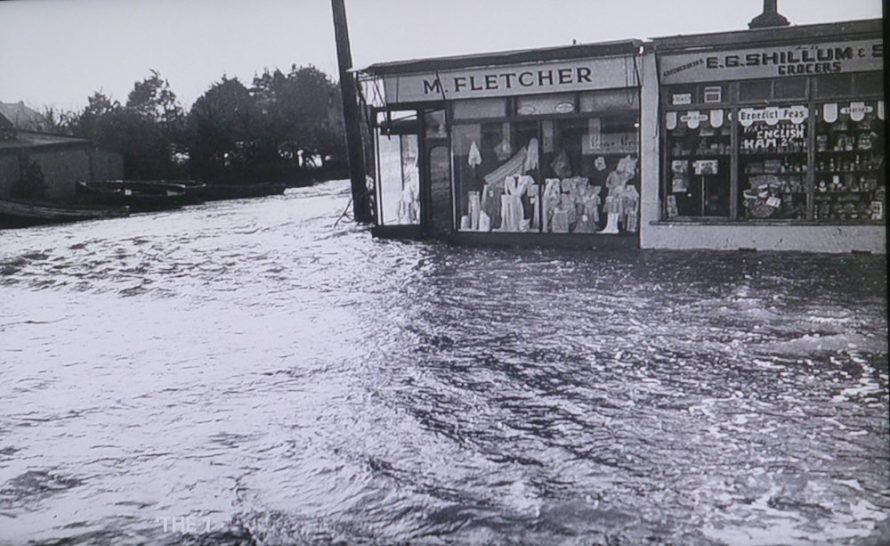 My family, Mum, Dad and brother lived in Concord Road, Winter Gardens at this time.  I was 11 my brother 6.  Our bungalow, funny as it sounds, had a staircase and upstairs bedrooms. It was built on 2' brick piers and faced forward to Central Avenue.
It was my job on a Sunday morning to be first up and make the tea. I opened my bedroom curtains and looked out, towards Cooks Farm fields and the Lake, bottom end on Denham Road. I could see and hear the cows in the field on a small piece of dry land mooing and shuffling about to keep on the dry land. Water was all around them.  I went and called to my Mum, 'Mum it ain't half been raining hard'. Everyone was then awake.
Looking into our garden, it was under water. The chickens had got out and were sitting on top of our old Pig sty making a lot of noise. It was then we could hear more noise, it was the sheep from Farmer Leach's baaing and bleating although sounded like crying.  Many drowned as the fields they were in were well below sea level.
Dad put on his boots and went round to Lunn's Stores to get the paper.  He was met by lots of Police, Fire Brigade and neighbours trying to help anyone they could.  It was here that he heard that 3 of the Manser boys had drowned. Their bodies taken to the Café at Lunn's Stores. One of the older Manser boys was in my class at school so I knew the family well.  It was tragic. My Dad and a few of the neighbours who did not immediately evacuate from the Island started checking the bungalows that were well under water. Luckily no-one else was found drowned.
Mum prepared something to eat as were had been informed by the Police etc that we should leave before the next tide. This we did.The walk along Winter Gardens Path to the station was horrendous, the water lapping up either side of the path and the wind howling.
We clutched together with our few belongings. Once we got to Leaches Farm house the whole of the area was full of people trying to get off the Island. We got the station and onto trains to Plaistow to Mum's brothers. When we got there they wondered why, such was the lack of news in those days. Dad had decided he would go back to the bungalow and together with the neighbours they stayed 'upstairs' in our bungalow. The three of them acted as vigilantes until one of them got seriously ill. Dr. Lintner was rowed over to the house and diagnosed appendicitis (turned out to be peritonitis) and the neighbour was taken to hospital.
As we did not have water in the house we came back after two weeks to a deserted Winter Gardens. Mum managed to get some shopping in, I think Shillum's at Lakeside opened and a few other shops. One of the worst things was after a few weeks, when the water had gone, they started digging a grave for the dead sheep and other animals that had been found. These animals were buried in the ground on which the late Castle View School stood and it was a long time before I stopped thinking about this
A time later we all went back to school and in our class we made a big map about 10'long and 5'wide which was titled 'After the Inundations' none of us knew what that word was at the time.